Source
Channelnews
, 11 March
Myanmar Buddhist activists staged a protest alongside Rohingya Muslims in Kuala Lumpur, calling for an immediate end to the violent crackdown against student protesters in Myanmar. 
Ethnic Myanmar Rohingya refugees hold placards during a protest outside the Myanmar Embassy in Kuala Lumpur on March 11, 2015. (Photo: AFP/Manan Vatsyayana)
KUALA LUMPUR: Scores of Myanmar Buddhist activists have staged a protest alongside Rohingya Muslims in the Malaysian capital.
The Buddhist activists were calling for an immediate end to the violent crackdown against student protesters in Myanmar. This comes just a day before Myanmar President Thein Sein is scheduled to arrive for a 2-day state visit.
Rohingya Muslims and the Myanmar Buddhist community do not usually mix in Malaysia where both groups have sizable numbers in residence. That is why the police and special branch were taking no chances when both groups decided to protest and hand over memoranda to the Myanmar government.
The Chin National Front group and the 88 Generation leaders' representatives where demanding an immediate release of the students taken into detention after clashes with police in central Myanmar. Over 100 students fighting for educational freedom were arrested in Letpadan as a result of violent clashes with the police.
"If he could hear us, let him make situation in Myanmar in a positive way not a dictatorship way," said Alfred Aung Myin Myint from the Chin National Front.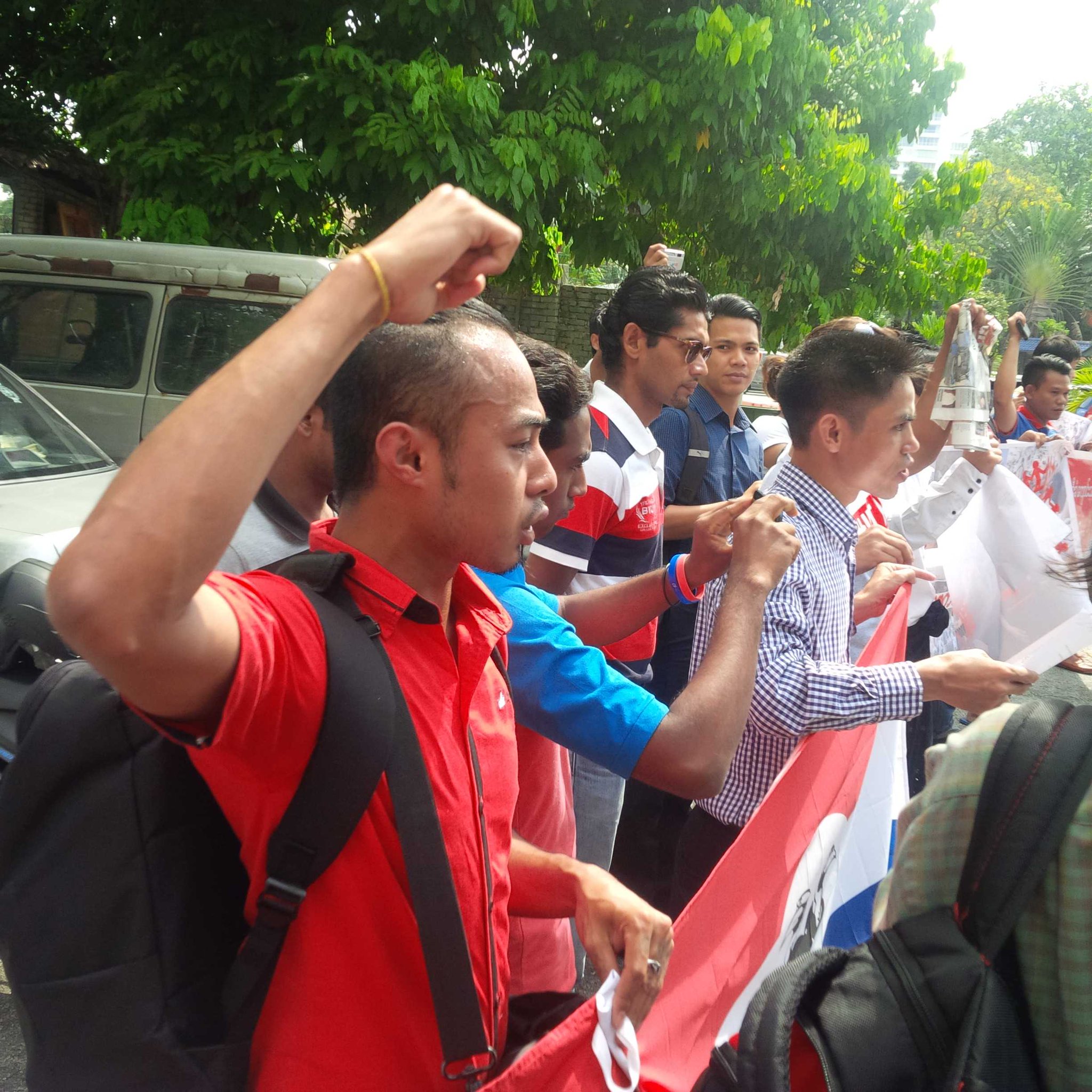 melissa goh @melgoh :
Myanmar activists protesting in Msia, want Thein Sein govt to immediately release detained students@ChannelNewsAsia     8:05 PM - 10 Mar 2015
The Rohingya community, too, was condemning the use of violence. There are some 80,000 Rohingya Muslims in Malaysia, mostly refugees. President Thein Sein will visit Malaysia on March 12 and they will be using the opportunity to call on him to recognise their basic human rights.
Mohammad Sadek, program coordinator for the Rohingya Arakanese Refugee Committee Malaysia, said: "We are part of Myanmar and we must have voting right to support the government for democratic process"
According to the United Nations High Commissioner for Refugees (UNHCR), there are over 130,000 Myanmar refugees in Malaysia and regardless of their ethnicity, many do not feel safe in Malaysia

"We are not safe at all here, because we are foreigners, we are not documented people," said Alfred Aung Myin Myint.

Mohammad Sadek added: "We are also afraid of Malaysia's enforcement law. The Malaysia immigration penal code does not allow anyone to escape any country."

It is a plight that many in the Myanmar diaspora can relate to. They feel that Thein Sein's self-styled reformist government is now letting the country's reforms slip backwards.

Many, like Yaw Han, the Chairman of the Chin National Front, still believe in pro-democracy leader Aung San Suu Kyi is their only hope. "We trust in her than anyone else in Myanmar because she is Aung San's daughter and Aung San who we trust him alone."